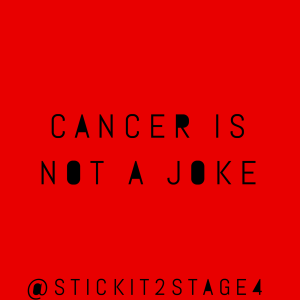 I like to talk. A lot. In school, there was more than one occasion where I had to change desks because I was too chatty with my neighbor. My husband and I can't get through an entire television show without me interrupting at least three times with random observations, jokes or anecdotes, most of which have nothing to do with what we're watching. I generally irritate folks sitting next to me in movie theaters, concerts and shows because I like to comment on what I'm seeing.
No one would ever describe me as quiet.
And yet, I find myself with nothing to say.
People ask me how I am. I honestly don't know. I can't put this feeling into words. This anxious feeling that makes my stomach feel like it's being gnawed from the inside. This scary feeling of impending doom. This terrified feeling that my life is over.
What I do not feel is brave. Or strong. Or inspirational. Or any of the dozens of other lovely but hyperbolic adjectives friends and family have been using to describe me.
I want to write about how I feel. About how I vacillate between insomnia and sleeping too much, because when I sleep I don't have to think about my diagnosis. About how I truly believe I caused my own cancer, whether by drinking too much Diet Coke or by carrying my cell phone around in my bra or by eating too much sugar and not enough kale. About how looking at my children and imagining them growing up without me causes such profound grief that I almost can't stand to be around them.
I want to write, but putting the words onto paper (or online) makes it my reality. And that reality is excruciating.
I keep trying to poke fun at the cancer. My jokes tend to fall on deaf or, more usually, offended ears. It's too hard for others to hear me make jokes about death and pain and cancer. I've joked about laminating a card with a giant "CANCER" written on it – my own personal cancer card to flash when people ask me to volunteer for something or clean something or cook something. No one but me finds it funny. I've tried to tease my husband by saying he's going to miss me when I'm gone, but he just gets pissed off and leaves the room.
I don't know how to be this person that I find myself being. I'm doing everything that I did before finding out that it's Stage 4, but it feels fake now. Like I'm pretending to be Meredith. Pretending to enjoy my life and pretending to not be absolutely terrified with every minute that ticks by that I'm coming closer to the end.
I know that no one is guaranteed a certain number of years on this mortal plane. I know that I could get hit by a bus today (or more likely hit by someone in the elementary school parking lot who doesn't know how to navigate the pick-up line). But getting hit by a bus or an idiot parent is a what if. Cancer is.
I don't know what to say. I don't know how to feel. I don't know how to be. But cancer is. And while it is, so am I. A good friend wrote to me yesterday, "Fake it til you make it." I will continue to fake it and pretend that I am still me until I figure out what to say, what to feel and how to be.
Categories: Uncategorized